Get Documents Signed Faster with FLK it over Business
Does your small business struggle to keep up with contracts and documents?
With FLK it over Business, streamline signing processes easily – our powerful e-signature software optimizes document management for small businesses! Save time while you focus on growing your company.
Navigating today's business landscape can take time and effort. With the need to stay ahead of competitors, reducing time spent on inefficiencies is essential. Signing documents traditionally involves tedious paperwork and plenty of room for error – not ideal! Thankfully with FLK it over, you can simplify your operations significantly while allowing you more freedom to focus on what really matters: growing your business.
What is electronic signature software?
Electronic signature software, also known as eSignature software, allows you to sign documents electronically without the need for printing, signing, and scanning paper copies. With FLK It Over Business's electronic signature software, you can sign and send documents from anywhere, on any device. Our software is intuitive, user-friendly, and offers advanced features to ensure that your documents are legally binding.


With FLK It Over Business's electronic signature and document management software, small businesses can enjoy a wide range of benefits, including

Increased efficiency
Our software eliminates the need for printing, scanning, and manually sending documents, saving you time and reducing errors.
Seamless customer experience:
Our software makes it easy to close deals and onboard new clients, providing a faster, more convenient, and more professional experience for your customers.
Lower costs
By eliminating paper, ink, and shipping costs, our software can save you money in the long run.
Don't wait, take advantage of our software and start managing your documents more efficiently today!
1000s of happy agents, 100,000s of signed leases, countless hours saved🕐
FLK helps you grow your portfolio by taking away repetitive admin work, so you can focus on people — not paperwork. Use FLK to…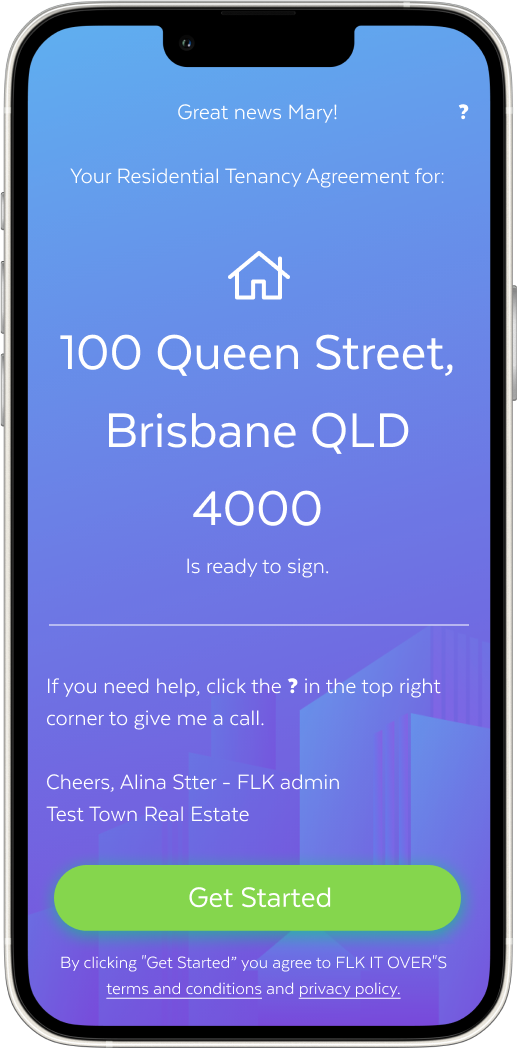 JOIN THESE AGENCIES USING FLK IT OVER
"With FLK IT OVER, I find myself actually leaving the office on time."
David
Greg Gilbert Real Estate
Based on a rent roll of 150—200 properties, we estimate FLK will save a property manager 4—6hrs per week in admin, chasing lease renewals, and lease signing appointments.
FLK IT OVER is available to agencies operating in New South Wales, Queensland and Victoria, Australia. 
FLK IT OVER offers three tiers of pricing guided by the volume of leases your office is processing per month. Subscriptions start from just $88 pcm