Discover the ideal e-Signature solution
Comparing the best e-Signature software: find your perfect match ations without stacks of paperwork. 
Unlock the potential of e-Signatures
Electronic signatures have no doubt transformed the way businesses and individuals handle documents. In this guide, we'll compare top e-Signature software options to help you find the perfect document signing tool for your business. 
Why are e-Signatures important?
Electronic signatures offer a wide range of benefits to both businesses and individuals, including:
Faster document processing: The business world moves at an extraordinary speed, and you need solutions that can keep up. e-Signatures are a game-changer in this respect. They streamline your document processing workflow, enabling documents to be signed and dispatched in record time. No more waiting for postal delivery or sifting through stacks of paperwork; with e-Signatures, you can get more done, faster.
 Cost-effective: Running a business means keeping an eye on every penny. By eliminating the need for printing, shipping, and storage of paper documents, e-Signatures help to cut costs significantly. It's not just a step towards digitalisation—it's a smart financial move that benefits both your business's bottom line and the environment.
The convenience of remote signing:

The modern workplace isn't confined to an office. With remote work becoming the norm, e-Signatures offer the flexibility you need. Whether you are at home, on the go, or halfway across the world, you can send documents at your convenience. This unprecedented freedom allows you to close deals, approve projects, or sign off reports without missing a beat.
Reliable and secure:

It's not just about convenience; it's about trust. e-Signatures are legally binding and carry the same weight as traditional signatures, offering you peace of mind. Wherever in the world you're doing business, you can trust that your e-signed documents are valid and enforceable. This assurance provides a secure foundation for your business growth and expansion in the global market.
Importance of choosing the right e-Signature solution
When looking for the best e-Signature solution for your business needs, ask the following questions.
Is it safe and secure?
Keep your business protected and customer data secure by looking at software encryption and authentication methods and whether a platform complies with relevant industry regulations.
Is it easy to use?
Consider whether a platform is intuitive and easy to use on both desktop and mobile and ascertain if it provides a seamless experience for staff and clients. 
Is it easy to integrate?
Look for a solution that can be easily integrated with your existing systems and software, such as CRM, ERP, and document management platforms.
Is it within budget?
Find a solution that fits your budget by comparing pricing models and inclusions and consider which platforms offer free trials.  
What support is available?
Consider whether support teams are local or international. Does the solution offer training videos, live chat and a responsive customer support team to help when needed?
Selecting the right e-Signature platform is essential to help ensure an efficient and streamlined workflow. In this e-Signature software comparison, we will examine the features, pricing, and usability of leading platforms, helping you determine the best e-Signature software for your unique needs.
FLK it over - Top contender in e-Signature solutions for businesses large and small for businesses large and small
User-friendly interface: FLK it over's intuitive design makes it one of the best e-Signature software options for users seeking a seamless experience. No complex navigation or extensive training is needed – just sign and go!
Mobile accessibility: As a leading e-Signature platform, FLK it over allows your customers to sign documents anytime, anywhere, right from their mobile phones. With our SMS communication and sign on glass technology, you can capture customer's real signatures, not just a digital version of their name.
Flexible subscription plans:

FLK it over offers a range of subscription options to suit every budget, making it one of the best document signing software for businesses of all sizes. Our plans scale with your usage, not your team size or feature availability making it one of the most flexible and cost-effective e-Signature solutions. All plans include unlimited templates, team members and much, much more.

Local Australian customer support:

As an Australian-owned and operated company, FLK it over prides itself on delivering exceptional customer service alongside cutting-edge technology. Benefit from personalised, local support to help you make the most of your e-Signature solution.
Integration capabilities:

DocuSign integrates seamlessly with popular platforms such as Dropbox and Google Drive, making it easy to access and sign documents from these services.

Real-time audit trail: Track and manage documents in real-time, providing transparency and control over your document signing processes.
Top-rated mobile app: DocuSign's intuitive mobile app allows you to send and sign documents on the go, providing convenience and flexibility.
Automated reminders and notifications:

DocuSign sends automated reminders and notifications, ensuring documents are signed on time.

Reusable templates:

Streamline your process with customisable templates that can be reused, saving time and effort in document preparation.

Customised branding (Standard and Business Pro Plan):

Maintain your brand consistency by customising your documents with your company's branding.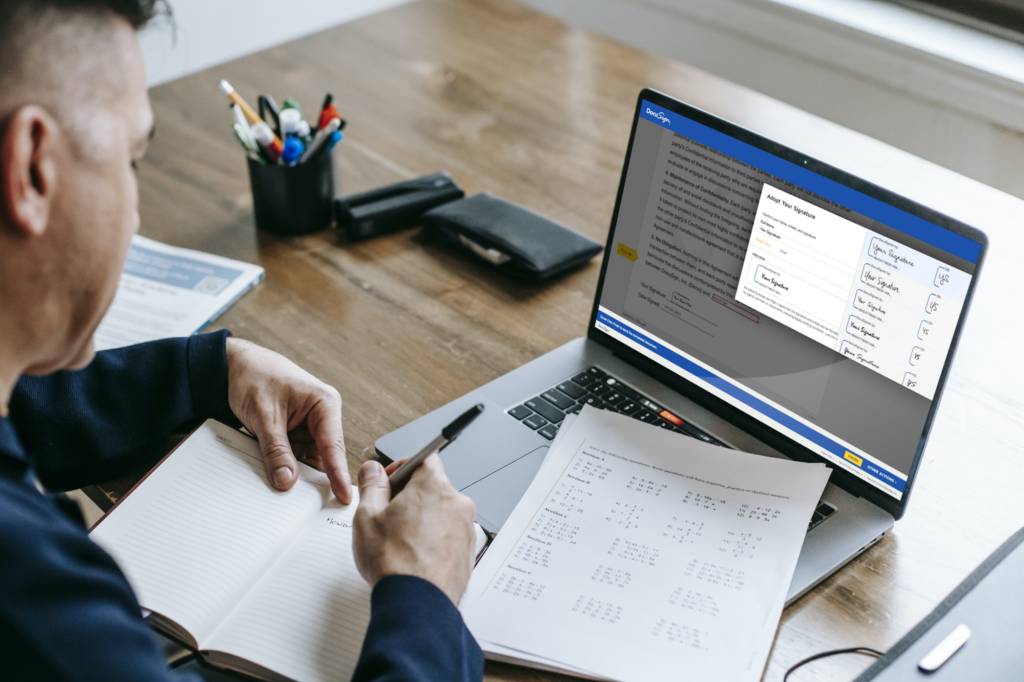 Personal Plan: For AU$14 per month or AU$168 annually, this plan offers 5 document sends per month, integrations with Dropbox and Google Drive, a real-time audit trail, and a top-rated mobile app.
Standard Plan: At AU$34 per user per month (AU$408 annually), this offers unlimited document sends, shared documents, and customised branding, in addition to all Personal Plan features.
Business Pro Plan: For AU$55 per user per month (AU$660 annually), this includes advanced features like signer attachments, SMS authentication, PowerForms, and payment collection, on top of all Standard Plan features.
Legally binding e-Signatures: Adobe Sign offers secure and legally binding electronic signatures, ensuring the validity of your documents.

Bulk actions and multi-party signing: Send documents out for signing at scale and enable multiple parties to sign the same document.
Customisable templates: Create and use custom templates for various document types to streamline the signing process.

Digital seals and notifications: Apply digital seals for added security and set up notifications and reminders for a seamless signing experience.

Intuitive interface: Adobe Sign is known for its user-friendly interface, making it easy to navigate and use.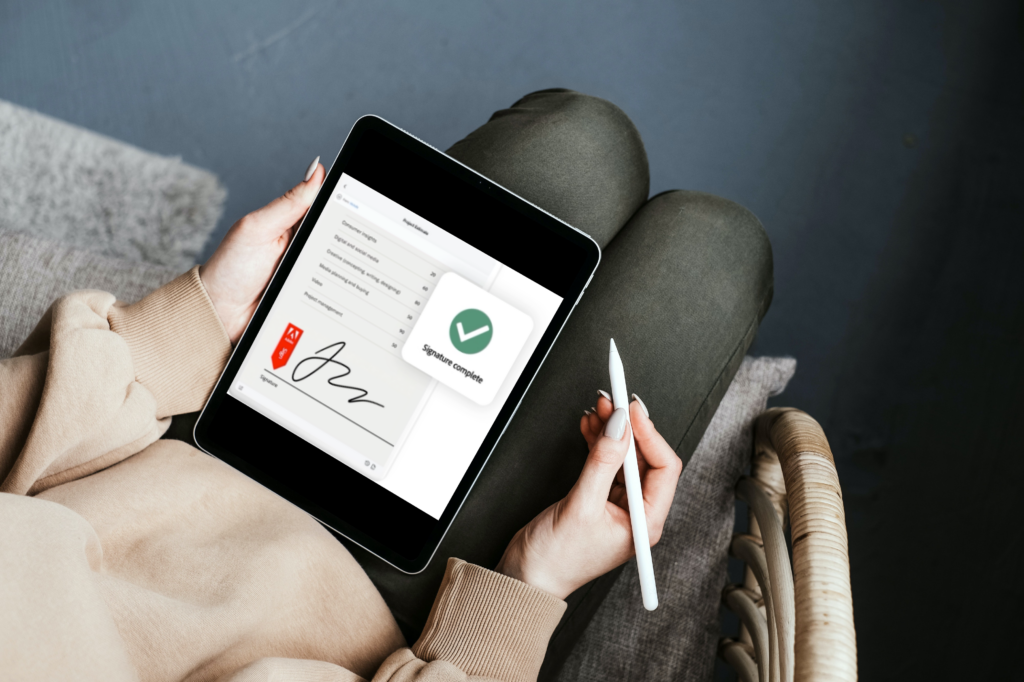 Adobe offers various pricing plans for its e-Signature solution, catering to different business needs. The Acrobat Standard for teams plan is available at AU$22.62 per month per licence.
For a more comprehensive solution, the Acrobat Pro for teams plan costs AU$36.20 per month per license, including advanced features like custom branding, payment collection, and bulk sending.
For businesses seeking scalable solutions with integrations and advanced authentication, Adobe provides the Acrobat Sign Solutions plan, requiring a call to their support for pricing details. This plan offers built-in integrations, API access, and industry-specific compliance requirements.
In-person signing:

Sign documents in person using an Android tablet or iPad, perfect for creating NDAs, photo releases, waivers, and more.

Flexible and simultaneous work:

Enables up to 20 individuals to sign a specific order simultaneously, increasing productivity and efficiency.

Robust security:

Provides bank-level security, with documents stored on a secure server and protected by SSL encryption. Also includes two-factor authentication for added protection.
Dropbox Sign (HelloSign) pricing
HelloSign offers various pricing plans to cater to different user needs:
Essentials: Designed for individual users, this plan costs AU$22.63 per month, billed annually at AU$271.61.
Dropbox + eSign: A combined plan available at AU$37.71 per month
Standard: Aimed at small teams, this plan costs AU$37.72 per user per month
Premium: Tailored for large teams, this plan provides a custom quote, with pricing starting at AU$905.38.
User-friendly interface:

PandaDoc boasts an intuitive dashboard that is simple to navigate, making it easy to use from the beginning.

Generous free plan:

The free tier provides many of PandaDoc's core features, offering a valuable option for users.

Efficient document creation:

The platform's drag-and-drop feature streamlines the process of creating proposals.

Wide variety of templates:

Utilise a vast selection of pre-built templates to quickly and effectively generate proposals.

Performance insights:

Analytics and tracking features to optimise your workflow.
PandaDoc offers a variety of pricing plans to accommodate different user needs:
Free Plan: Unlimited document uploads, legally binding e-Signatures, and payment collection through mobile app access.
Essentials Plan: AU$37.72/month with a monthly plan. Includes access to PandaDoc's proposal templates, drag-and-drop editor functions, document analytics, and pricing tables.
Business Plan: AU$73.83/month for a monthly plan. Provides all Essentials features plus CRM integrations, a content library, custom branding, Zapier integrations, and bulk sending of proposals.
Enterprise Plan: Custom pricing. Includes custom user roles, SSO support, unlimited team workspaces, and API access.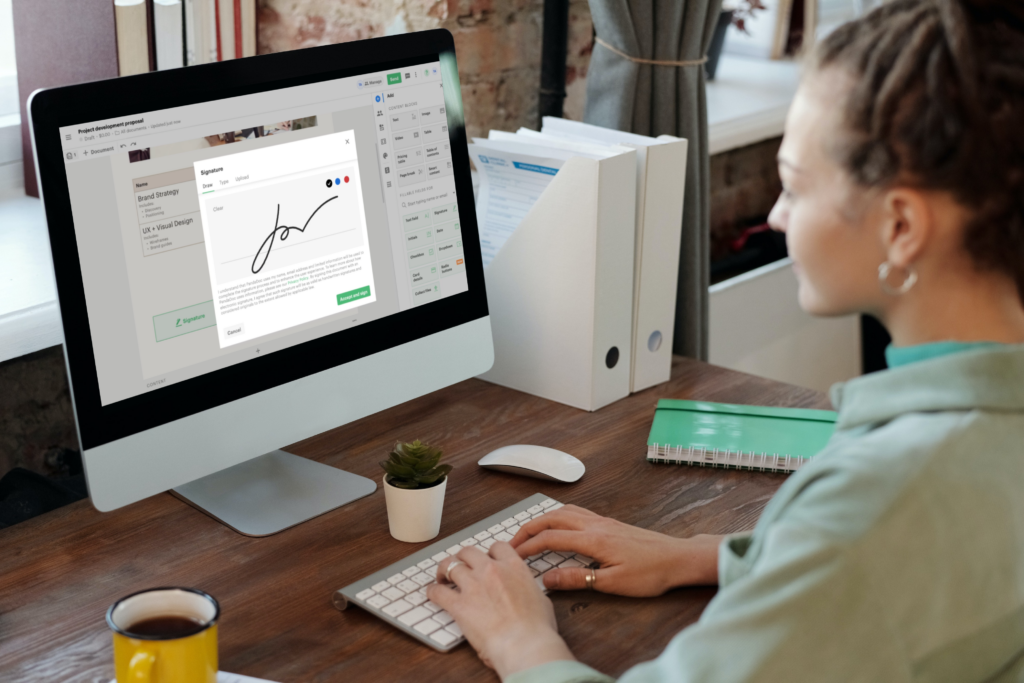 | | FLK it over Business | DocuSign | Adobe Sign | Dropbox Sign | Panda Doc |
| --- | --- | --- | --- | --- | --- |
| Starting price | AU$0/month | AU$14/month | AU$18.69/month | AU$18.69 | AU$0/month |
| Send documents for e-Signature | | | | | |
| Send multi-docs as individual PDFs | | | | | |
| Mobile-responsive signing | | | | | |
| Unlimited Templates | | | | Premium plan | |
| Unlimited users | | | | | |
| SMS delivery | | Add-on | | Add-on | |
Ready to revolutionise your document signing process?
Take the first step towards a more streamlined, efficient, and secure way of handling your important documents. With FLK it over's e-Signature software, you can say goodbye to the hassle of manual document signing and embrace the future of digital transactions.
Start your free trial today and experience first-hand how our innovative features can transform your business operations. Embrace the speed, convenience, and security that our e-Signature solution offers.
Don't wait! Begin your journey with FLK today and take advantage of our 14-day free trial!